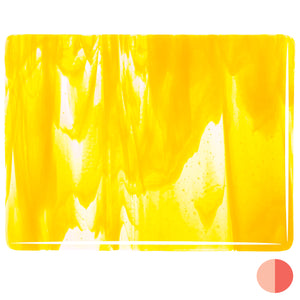 **Bullseye Large Sheets are available for in-store pick up only. **
2020-30 - Clear, Sunflower Yellow Opalescent 2-Color Mix Streaky Bullseye Large Glass 3mm
Half Sheet- approx. 17 x 20 in.
Full Sheet- approx. 20 x 35 in.
Streaky Glass by nature vary sheet to sheet. Image is representational but actual sheets will vary in appearance.
*Striking styles may appear different than their intended color before firing. These styles will reveal the targeted color after firing.
Bullseye Tested Compatible